Neighborhoods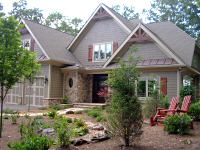 The Georgian Highlands has 6 distinct neighborhoods. The first phase of the development located in Pickens County is called the Clear Creek neighborhood and consists of 46 home sites along high elevation ridges and streams, most views are long-range views of Sharp Top Mountain and the Atlanta skyline. The second phase is located entirely in Gilmer County and has 96 home sites with northerly views of the Amicalola mountain range and Rich Mountain wilderness. High Hampshire, the third phase with 26 home sites, has the highest elevations in the property and stretches up to the Tate Mountain preserve. Spectacular views of the Chattahoochee National Forest. The fourth phase of 54 home sites is called Cold Stream Falls because several streams cascade down the mountains offering home sites with spectacular waterfalls and breathtaking views. Home sites are a minimum of 3 acres and a maximum of 55 acres.
Choosing a home site, understanding its access, its build site, and taking advantage of its topography are critical to taking advantage of your mountain home environment. Our specialists will work with you to choose the home site that leverages the natural beauty of the surrounding land and bring you closer to achieving your mountain living goals. Each of the Georgian Highlands development phases highlights unique aspects of the 3,500 acre development, and we are here to help you pick the one that works for you.
Dragon Ridge
Dragon Ridge is the newest addition to the Georgian Highlands community! Dragon Ridge is one of the highest elevated neighborhoods in Georgian Highlands. It boasts 3+ acres sites with flat, easy build sites and some of the best long-range unobstructed views that the community has to offer. Only 15 home sites will be available in Dragon Ridge. Please contact us today if you are interested in viewing the properties at Dragon Ridge!
Clear Creek Neighborhood
Nestled in a 550 acre subdivision in Pickens County, GA, the Clear Creek neighborhood consists of 46 home sites varying in size from 10 to 55 acres. Home sites located along the "Three Sisters" ridge line have spectacular long-range views of the Atlanta skyline to the south. Other lots have long stream frontage and waterfalls with views to the north of the national forests. There are 46 home sites at Clear Creek on 550 acres, with an average site size of 11 acres. Prices range between $200,000 and $750,000.
North Park
The North Park neighborhood is situated in Gilmer County, GA and consists of 96 home sites of 3, 5, or 10 acres. These home sites offer spectacular views to the east, north, and west of almost a million acres of protected national forests and wilderness areas. Very easy access and level building sites are characteristic of home sites in this neighborhood. There are 98 home sites at North Park on 360 acres with an average site size of 3 acres. Prices range between $100,000 and $250,000.
High Hampshire
The High Hampshire neighborhood contains some of the highest elevations on the property and backs up to the Tate Mountain Estates. It is entirely contained in Pickens County, GA and consists of 26 10+ acre home sites. All home sites have spectacular long and medium range views. There are 26 home sites at High Hampshire on 360 acres with an average site size of 10 acres. Prices range between $200,000 and $350,000.
Cold Stream Falls
The Cold Stream Falls neighborhood was released in the winter of 2004 and consists of 55 home sites featuring wide streams and waterfalls combined with spectacular northern and western views. Gentle access and great build sites are typical. This neighborhood also includes the common amenity of a 5 acre park with walking/hiking trails and the Cherokee camp site beside the beautiful Clear Creek stream. There are 56 home sites at Cold Stream Falls on 252 acres with an average site size of 4 acres. Prices range between $100,000 and $450,000.