The Georgian Highlands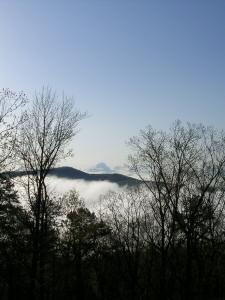 Just 45 minutes north of Atlanta, discover a breathtaking high elevation mountain property that offers the ultimate privacy in a mountain community. Set amidst pristine hard woods, cascading waterfalls and 60 mile sky line views, ownership in the Georgian Highlands is a once in a life time opportunity. Unique to this spectacular 3,750 acre property is its elevation and the lay of the land. Level build sites, easy access and paved roads with underground utilities. At an elevation of 2600 feet, four mild yet spectacular seasons greet you on this property: Mild Summers followed by spectacular Fall, enjoyable Winters followed by exhilarating Spring.
The Georgian Highlands is the answer to that perfect, all year round, mountain getaway that you have always dreamed of. Be it the reward of a retirement home that offers peace and tranquility amidst pristine nature or a second home to get away from it all or one that brings the family together. Come tour the Georgian Highlands and discover why people from all over the country are calling this the undiscovered mountain jewel of the south.
The Georgian Highland's location and easy access makes it a unique property like none other. Cashiers and Highlands of North Carolina have been the traditional mountain retreats from the hustle and bustle of the city and the hot summer months. Difficult access through congested, narrow winding roads, steep build sites and harsh winter weather is making many mountain property buyers rethink their choices. The Georgian Highlands is conveniently located north of Atlanta, just a 45 minute highway drive from the suburbs and an easy six hours drive from Orlando. You and your family will be transported to a world where time stands still and the old world charm captivates you as you enter our stately gated entrance. While inside the secure gates, the resort and retreat atmosphere captivates you, all the urban comforts are just minutes away in the mountain cities of Jasper and Ellijay, where grocery shopping, pharmacy, schools, hospitals, medical offices abound.
The Georgian Highlands is at the foothills of the Appalachian Mountains and within 2 hours of a wide range of nature oriented outdoor activity like tubing, white water rafting, kayaking, trekking, horseback riding, and mountain climbing.
The Georgian Highlands protective covenants have been carefully designed to preserve the pristine nature that is within its gates. Your property values remain protected by the large acreage home sites in this ultra low density development, making it a true legacy property. In a world where urbanization is rapidly overtaking the pristine beauty of nature, this is the only invaluable gift we can give to our future generations. Become a steward of this enchanted land and participate in its preservation in perpetuity.